PDR eBook – Enter the Paintless Dent Removal Industry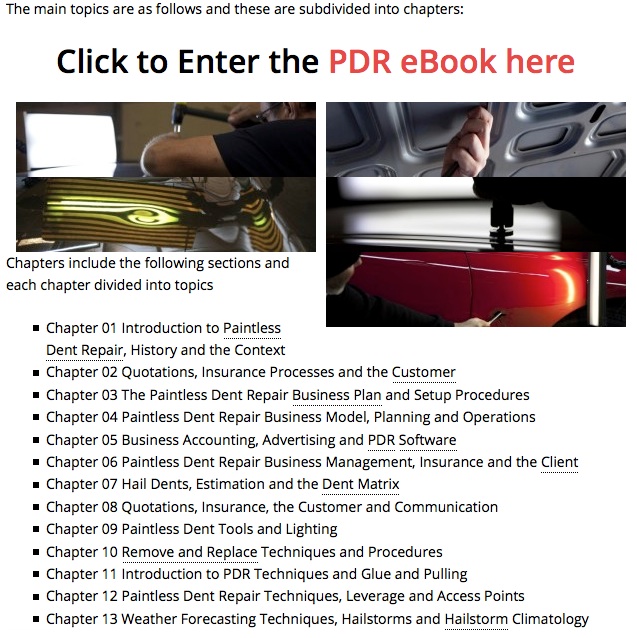 PDR eBook only costs $49 for what you need to set up and paintless dent removal business! Welcome to the paintless dent removal eBook online – PDR eBook! The paintless dent removal process, pushing or pulling dents are covered extensively in this resource. The PDR eBook has worked examples of the quotation process and the business setup. Furthermore, it includes simplified business accounting information.
This resource was setup to compliment the paintless dent removal training course at www.pdrtraining.com.au. Unfortunately, there is very little in the way of useful information across the internet that can assist in paintless dent removal business setup information. Understanding the PDR business and associated industry is paramount to the success of such a business because it can take only one storm of heavy unnecessary risk and you could be in debt! Don't make the mistake and try entering this industry blind – get dressed up with the right knowledge.
Why this PDReBook?
This PDReBook was written directly from within the storm setup. The whole set of resources and illustrations were put together over a two year period. From questioning to brainstorming and research, this PDR eBook will save you the heartache of having to do research yourself or attempting to sift information from typically secretive PDR Technicians or managers. For a list of Features
How much does it cost and how do I join? This online eBook has a lifetime membership to new materials and only costs $49 which is less than the previous amount of $89! It is likely the most value for money resource for PDR on the internet!
Join now Pay by Paypal using its secure setup process and be online within minutes!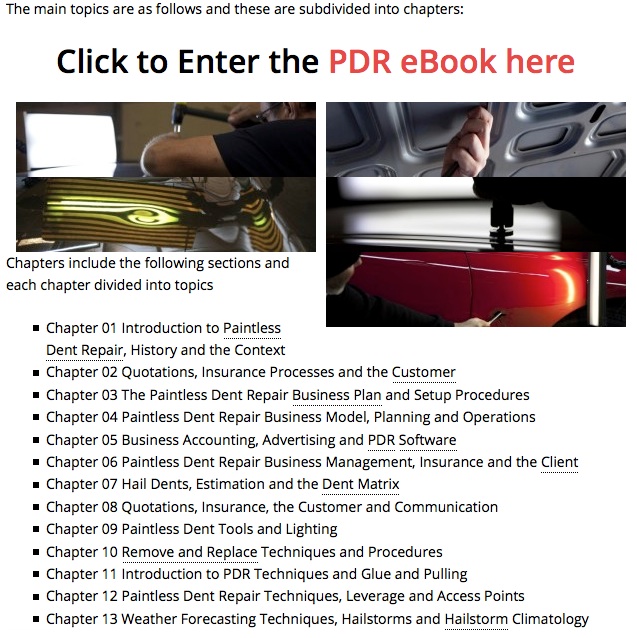 Hail Quote Cost Estimator
Hints: How to take photos of dents on cars
Clean your vehicle thoroughly as dents show up better and chose the right light conditions such as cloudy days and evening light
Close-up - Take pictures showing shadows and use lines to outline the dents depth and size (lines get bent in a dent)
Zooming out - Broader picture showing the number of dents
Repeat for EACH panel
*White vehicles are hardest to photograph so we simply use these pictures as guides
** Tiny dents are hard to see but we use special lights to get a proper quotation
***We do know people try get quotes from us to negotiate sales on vehicles so we try to be fair
When using the Dent Quote APP please
The quotation Dent Quote APP below is quick dent quote and upload picture system on your vehicle. It is meant as a quick guide to help speed up your decision process and get guidance from us. To use it we recommend to take pictures first and upload after rather than taking photos from our app: